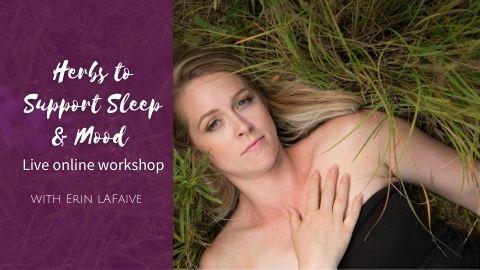 Have you ever had anxiety? Panic attacks? Sleepless nights?
Did you know herbs can help support sleep and mood?
I feel like an expert in anxiety. 
My training in how to deal with it comes from real life experience. In myself, my kids, and a long line of family members. 
I wrote a blog about it a few years back "My secret. My anxiety". 
I've dealt with hundreds of panic attacks and thousands of hours with anxiety. I've utilized a large range of supports to come to a place today where anxiety doesn't rule my life. 
Could plants really help with such a BIG problem? I had my doubts. What I know to be true now is that herbs soothe and calm me in many ways. 
Anxiety can seem to have no reason, purpose, or explanation. It can be fleeting because of an anticipated stressful event or long term after a stress situation. Sometimes it's caused by illness, brain injuries, grief, or ongoing negative relationship dynamics, and the list goes on. 
What I find hopeful . . . is that we can help ourselves no matter what the anxiety is caused from. There are many herbal and plant supports. 
What plants and herbal remedies have helped you with mood or sleep?
P.S. "Herbs to Support Sleep and Mood" is on Feb. 9., 2022 Click here to register.  
Erin LaFaive is an herbalist and Plant Priestess with Full Circle Herbals.
"I came about the name Full Circle Herbals because I like all aspects of herbs from growing, harvesting, using, preserving, teaching, and creating.
Some people like growing herbs, others would rather purchase herbs to make remedies and crafts. Some people like teaching about herbs more than growing them. I like all of it! From seed to soil, to body, mind, and spirit.
That's what you'll find  here ~ teaching, making, growing, seed saving . . . the Full Circle of herbs.