Grow your apothecary:
Moonthly Plant Lessons
Grow Your Apothecary is a moonthly, virtual gathering to cohere with one herb at a time.
These plant lessons will help you grow your:
Relationship to your inner green witch, herbal healer, and/or plant priestess.
Calling all – Green Witch, Herbal Healers, and Plant Priestesses!
Do you want to learn how to grow or gather herbs?
Are you wanting to learn more about plants and how to use them for wellness or spiritual practice?
Do you desire more connection to plants?
You can have this and more with . . .
Grow Your Apothecary a moonthly, virtual gathering to cohere with one herb at a time. 
Sliding scale payment options
Moonthly plant lessons (Sunday before a Full Moon)
Access to the live lesson via Zoom
Replay link sent via email
Email reminders for the plant lesson for the week and day of
Sliding scale payment options
What's so unique about Grow Your Apothecary: Moonthly Plant Lessons?
Each lesson will begin with a plant attunement.
Sharing time at the end of each live lesson for Q&A and sharing with each other our successes.  
Taught by someone who: 
Embraces diversity of thought, expression, and ways of knowing
Strive to learn and use all ways of knowing 
Values learning at each person's own pace
Considers plants as Beings
Values open communication about culturally considerate lessons
Actively seeks to uproot oppressive colonized mindset in herbal ways
The lesson schedule follows the moon cycle
Lesson dates are set by the cycles of the Moon and not the Sun calender
(It may seem like the lessons are set by the Sun calendar since we meet on Sundays. However, the moon is guiding which Sunday it lands on.)
This workshop is for people who:
Want to learn how to use herbs for wellness
Develop a relationship with plants
 Seek to explore herbal wisdom through all ways of knowing
Who is leading the lessons?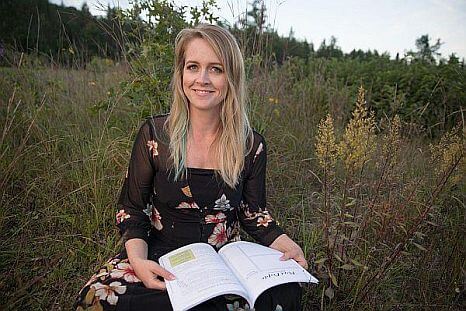 My name is Erin LaFaive, I'm an herbalist and Plant Priestess; owner and founder of Full Circle Herbals; and the author of the Learning Herbalism Workbook. 
I've worked in three greenhouses learning to cultivate and care for herbs, vegetables, shrubs, and trees. Also, I've taught hundreds of people of all ages about herbalism, horticulture, and environmental subjects for well over 13 years.
I formalized my herbalism training with Gigi Stafne of Green Wisdom School of Natural and Botanical Medicine and Rosemary Gladstar's Art and Science of Herbalism on-line course.
I also earned a bachelor's degree in Geography with an emphasis in Natural Resources Management and a master's degree in Environmental Studies.
Recently, I completed a year long training with Elayne Kalila Doughty through Priestess Presence Temple. I'm currently in her Enter the Mystery program based on the 13 Moon Mystery School. 
Sliding scale payment options