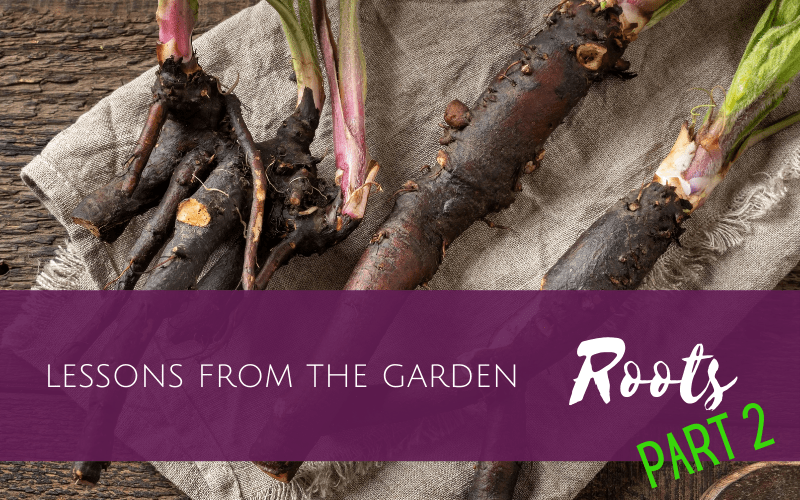 In part 1 of "Lessons from the Garden: Roots" I described how planting comfrey and Purple coneflower into my new garden became more difficult than anticipated and what I learned from that challenge. 
In part 2, I'll share more about why I like having comfrey and Purple coneflower as part of my home herbal apothecary. 
As I buried the medicinal roots for comfrey (Symphytum officinale) and Purple cone flower (Echinacea spp.) I wondered if I'd recognize the roots, during harvest time, in this new home garden space. I became concerned because this is a new yard for me and with it comes new underground territory to acclimate to.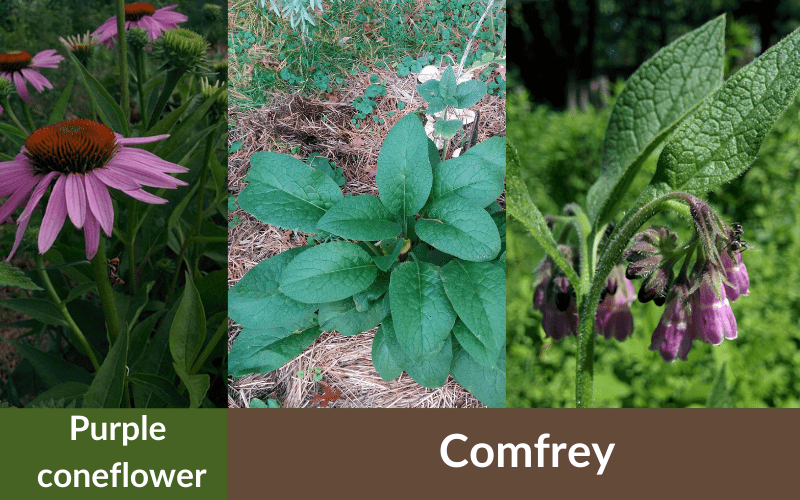 I reassured myself that I know the echinacea and Purple coneflower roots well enough and I planted them in specific locations. It's not as if I'm harvesting in random locations in non-garden settings that I'm not familiar with. 
Even with the challenge of planting these roots I wanted to keep them in the garden. 
The reason I keep comfrey in my garden is to use the root for wound healing. Mostly I use the root in salves on minor cuts and bruises. 
I've experienced bruises healing more quickly with the use of comfrey root salve. 
Some of the old names for comfrey include knitbone and boneset. What a fabulous thing to do – give names to plants to indicate their helpful properties. These common names suggest it was used to heal bone breaks.  It amazes me that people knew how to use these herbs before microscopes or science labs.  
Science has identified the chemical allantoin in comfrey which promotes cell growth in bone, connective tissue, and skin. How cool is that! Before people knew the name of this chemical or it's existence they somehow figured out that comfrey increased healing. How did they know that? Of all the plants growing around them, how did they know to pick that one and use it on a broken bone or skin? 
A long lasting, well maintained relationship with plants is how people knew what to use them for. Dreaming and trancework are a couple of ancient technologies that assisted with gathering knowledge. Technologies that modern societies left behind, tried to eradicate, and buried. 
Comfrey root looks black on the outside and cream colored inside. The root system typically has a taproot-like structure with many secondary roots coming off of it. It can grow very deep and spread vigorously.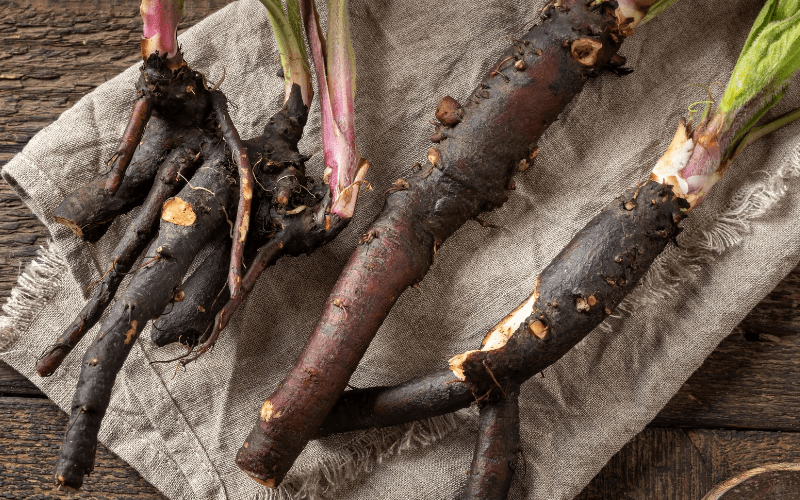 Purple coneflower root is known to help reduce pain in the mouth from toothaches and sore throats. 
I've experienced Purple coneflower tea reduce symptoms and duration of colds, if taken at the onset. It's also been shown in research studies to have anti-viral capabilities*. 
The root system of Purple coneflower is described as a taproot as well. However, the roots seem much smaller than what I would describe as a taproot. Taproots usually indicate a long main root (like a carrot). The Purple coneflower roots I've grown remind me of wide spaghetti noodles and the color is light brown to tan. 
What other herbs do you grow in order to utilize the roots for herbal remedies? Have you grown comfrey before, how did it go?
Are you looking for a place to purchase dried herbs? Click here to go to one of my favorite companies Mountain Rose Herbs (affiliate link). 
Research cited
*Signer, J., Jonsdottir, H.R., Albrich, W.C. et al. In vitro virucidal activity of Echinaforce®, an Echinacea purpurea preparation, against coronaviruses, including common cold coronavirus 229E and SARS-CoV-2. Virol J 17, 136 (2020). https://doi.org/10.1186/s12985-020-01401-2
Erin LaFaive is an herbalist and Plant Priestess with Full Circle Herbals.
"I came about the name Full Circle Herbals because I like all aspects of herbs from growing, harvesting, using, preserving, teaching, and creating.
Some people like growing herbs, others would rather purchase herbs to make remedies and crafts. Some people like teaching about herbs more than growing them. I like all of it! From seed to soil, to body, mind, and spirit.
That's what you'll find  here ~ teaching, making, growing, seed saving . . . the Full Circle of herbs.