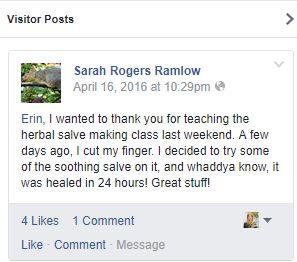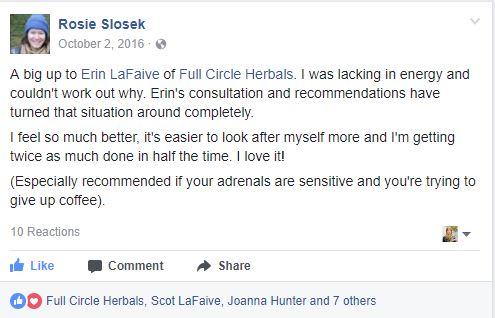 The profession of herbalism requires clinical competence, fantastic field skills and a balanced combination of intuition and science.  Erin embodies all of these in her botanical medicine work.

"I enjoy working with Erin for a more holistic/natural approach to health care issues. Her knowledge, experience and passion for her work are great gifts and it is evident that she does her 'homework' having taken my individual needs into consideration."
Awesome calming herbs class with Erin today, thank u!! Kerri K, 2015
The nourishing infusions workshop today was a very valuable investme

nt- worth every penny in fact. I gained a wealth of knowledge, new skills, as well as brought home several herbs and some very versatile skin cream. Erin, is an amazing teacher. She communicates well, she is very easy to listen to and understand, and her educational training and life experience shine through as she teaches others. I look forward to anther workshop in the future, and I am thankful for the time I spent with like-minded individuals today. 
In accordance with Wisconsin law and professional standards, the purpose of Full Circle Herbals, LLC is for educational information about Complementary & Alternative Medicine subjects. It is not intended to take the place of personalized medical counseling, diagnosis and/or treatment by a trained medical physician. Herbs and other botanicals are classified by the Food and Drug Administration as food products, to date. Botanicals are not classified as "medicines".